Non-Surgical Body Sculpting
At Laguna Beach Rejuvenation and Wellness, many of our patients are turning toward non-surgical methods of obtaining the toned and tightened body they desire. Dr. Daniel C. Mills offers a number of body sculpting techniques that can be ideal for patients who seek a more contoured figure without the downtime necessitated by surgery. These procedures not only eliminate excess fat but can also reduce the appearance of cellulite for a smoother appearance to the skin. In addition, they can often be easily combined with minimally-invasive skin tightening treatments, dermal fillers, and various medical-grade skin care products for a more comprehensive rejuvenation.
CoolSculpting® – Fat Reduction


Often serving as an alternative to liposuction for some patients, CoolSculpting® is particularly effective at targeting and eliminating fat cells that are resistant to traditional diet and exercise. For patients that are at or near their ideal weight, this non-invasive, FDA-approved procedure can remove stubborn areas of fat along the waist, abdomen, and back. Using a process known as Cryolipolysis, excess fat cells are targeted and cooled, ultimately causing them to break down. In the weeks following your CoolSculpting® treatment, these fat cells are filtered out of the body by your own natural metabolic system. CoolSculpting® is virtually painless and involves no needles or anesthesia, and most patients return to their normal daily activities the day of their treatment.
VASERshape®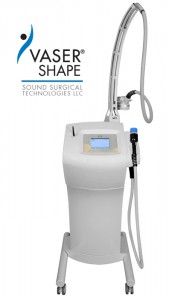 VASERshape® serves as another liposuction alternative with fast and effective results. This innovative procedure recontours the shape of your body by using a combination of massage therapy and ultrasound technology. VASERshape® can be used to target a wide variety of areas, including the abdomen, hips, love handles, and buttocks, as well as the arms and thighs.
Cellulite Reduction: In addition to body contouring, VASERshape® can reduce the appearance of cellulite without the need for invasive techniques. Though you will likely be able to notice the effects of VASERshape® immediately, your results should also continue to improve over the following months.
Post-Surgical Sculpting: VASERshape® is commonly used by patients who have undergone liposuction but desire further contour enhancement. By stimulating the lymphatic system, this procedure can augment the results of liposuction, providing an even more dramatic body transformation. Additionally, VASERshape® increases circulation to the target area, which can improve the aesthetic outcome of your liposuction procedure.
Contact Us
If you are interested in learning more about the non-surgical body sculpting options at Laguna Beach Rejuvenation and Wellness, or if you would like to schedule a consultation, please contact our office today.