Fillers and Injectables
At Laguna Beach Rejuvenation and Wellness, many of our patients seek non-surgical alternatives to facial rejuvenation. Our experienced providers offer a wide array of injectables and dermal fillers, each with their own specific advantages. During the consultation process, they will work with you to determine which treatment or combination of treatments will best achieve your cosmetic goals. With many of these procedures, you should instantly see common signs of age such as fine lines, wrinkles, and hollowed cheeks begin to disappear before your eyes.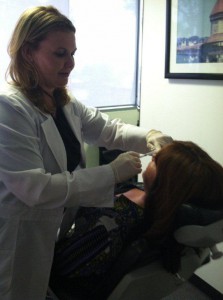 Injectables and dermal fillers are ideal for patients who wish to restore a youthful, more refreshed facial appearance without the downtime necessitated by surgery. A local anesthetic can be used before the injection to help maximize comfort during treatment. Procedures generally last about 15-20 minutes, but the time will vary depending on the number of areas being treated and your unique goals. Since these injectables and dermal fillers require little to no recovery period, the treatments can often be performed during a lunch hour. Each procedure is tailored specifically for your individual facial anatomy, taking into account your aesthetic goals as well as the strength of your facial muscles to achieve the look you desire. As an added benefit, injectables can generally be paired with medical-grade skin treatments, skin care products, and laser procedures for a more comprehensive facial rejuvenation.
Though the duration of your results may vary based on the treatment type you select, occasional follow-up treatments can help maintain the effects.
BOTOX® Cosmetic and Dysport™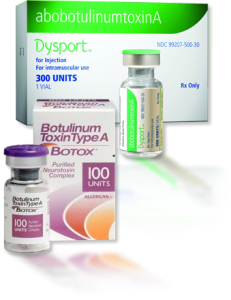 BOTOX® Cosmetic and Dysport™ are injectable treatments that rejuvenate the face by reducing the appearance of fine lines, wrinkles, and crow's feet. By combating these common signs of age, these treatments can give your face smoother, revitalized skin. You will notice the benefits of these procedures very soon after the injection, and the results typically last 3-4 months. Both of these FDA-approved treatments work by inhibiting the contracture of the facial muscles beneath the skin that cause wrinkles and creases to form. As non-surgical alternatives to many popular facial rejuvenation surgeries, BOTOX® Cosmetic and Dysport™ can help patients who may not need a full surgical treatment to achieve their goals.
Xeomin®
Xeomin®, a solution similar to BOTOX® Cosmetic and Dysport™, can reduce or erase the appearance of glabellar lines (severe lines between the eyebrows), deep creases on the forehead, and crow's feet. As a facial rejuvenation tool, Xeomin® can give you a more youthful, revitalized look by diminishing many common signs of aging. The outcome of your treatment should be noticeable almost immediately afterward and results typically last up to four months. To maintain the effects of Xeomin®, treatments can also be repeated as necessary.
As an additional use, Xeomin® has also been proven effective at hyperhidrosis treatment. If you are suffering from excessive sweating in the underarms, talk to one of our skincare specialists about how Xeomin® can help you significantly improve the condition.
JUVÉDERM™, Restylane®, and BELOTERO BALANCE®


JUVÉDERM™ and Restylane® are dermal fillers that utilize hyaluronic acid (a naturally-occurring substance in the body) to stimulate new collagen growth in the skin. They are often used for the treatment of facial wrinkles and creases, these fillers temporarily reverse the natural loss of collagen that results from age. After these procedures, your skin can appear fuller, firmer, and more supple. In addition, these dermal fillers can be used to enhance facial features such as the lips for a more defined and full appearance. The results of JUVÉDERM™ and Restylane® last approximately 6 months, and even longer in some cases.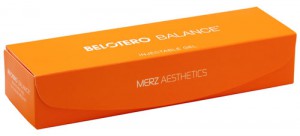 BELOTERO BALANCE® is a hyaluronic acid-based dermal filler with a particularly smooth consistency. In addition to reducing the appearance of facial wrinkles, the unique makeup of this filler allows for a more natural-looking restoration of delicate areas such as the skin around the eyes and lips. However, BELOTERO BALANCE® still has the strength to treat deeper creases and folds, such as nasolabial folds (lines between the nose and mouth. The results of this treatment can last 6-9 months; however, longevity of the effects will vary among patients.
JUVÉDERM VOLUMA™ XC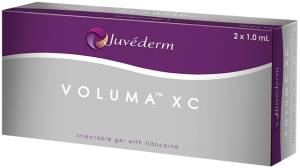 JUVÉDERM VOLUMA™ XC is a dermal filler uniquely engineered to counteract sunken cheeks. The hyaluronic acid in JUVÉDERM VOLUMA™ XC is formulated to create fuller, younger-looking cheeks by stimulating the production of collagen. For patients looking for a non-surgical method of cheek augmentation, this dermal filler is designed to lift the skin around the cheekbones while simultaneously reducing the appearance of fine lines and wrinkles in the midface. JUVÉDERM VOLUMA™ XC is FDA-approved for patients over the age of 21 and the results of this treatment can last 2 years or more in some cases.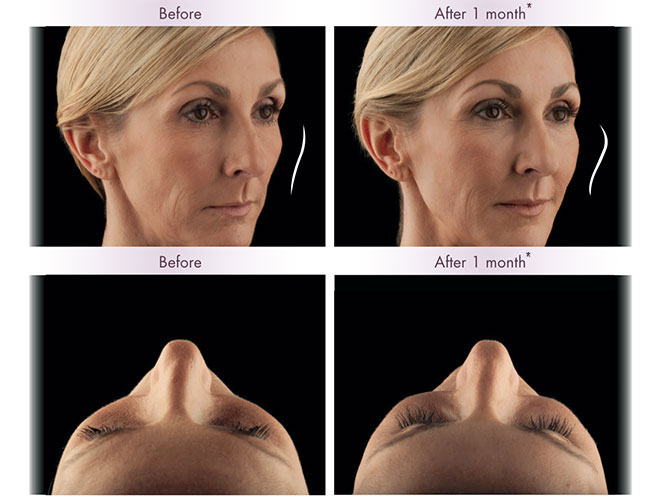 RADIESSE® and Sculptra® Aesthetic

RADIESSE® is an innovative dermal filler designed to provide longer-lasting results. Composed of calcium hydroxylapatite microspheres that support the body's natural collagen, RADIESSE® can dramatically reduce the appearance of wrinkles, creases, and folds for 12 months or even longer. This dermal filler can also be used to restore lost volume to hollowed cheeks through non-surgical augmentation.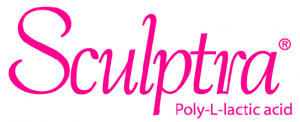 Sculptra® Aesthetic adds volume to the areas of the face that tend to lose their youthful fullness and firmness as we age. By stimulating collagen growth with poly-L-lactic acid, this dermal filler can be used to treat areas including: the cheeks, temples, jawline, and chin. Though 3-4 treatment sessions are sometimes necessary to achieve optimal results, the final outcome can last 2 years or more. Sculptra® Aesthetic can be particularly beneficial for patients who have hollowness in the cheeks due to age or medical conditions.
Bellafill®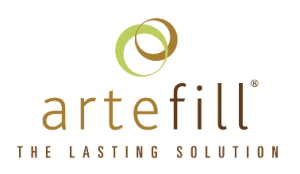 Composed of polymethylmethacrylate (PMMA) microspheres and bovine collagen, Bellafill® can address the deep nasolabial folds and smile lines that span from the nose to the mouth. This dermal filler, approved by the FDA, often achieves dramatic, long-lasting results. With only 1-2 treatments, patients should notice the nasolabial lines and wrinkles nearly disappear. Like many other injectable fillers, Bellafill® typically requires no downtime after treatment.
Contact Us
If you are interested in learning more about the injectables and fillers offered at Laguna Beach Rejuvenation and Wellness, or to schedule your initial consultation, please contact us today.
*Individual Results May Vary