Skin Tightening – Lasers / Wrinkle Reduction / Collagen Building
As we age, our skin naturally begins to sag due to gravity, exposure to UV rays, fluctuating hormone levels, a decrease in collagen production, and even high stress levels. We develop fine line and wrinkles and simultaneously lose our skin's youthful elasticity and volume. The skin tightening treatments offered at Laguna Beach Rejuvenation and Wellness can reverse many of these common signs of aging, leaving you with a smoother, firmer, and younger appearance. These energy and laser therapies can tighten sagging skin, reduce fine lines and wrinkles, and rebuild collagen for healthier and more supple skin. During the consultation process, your provider will help you decide which of our skin tightening treatments is best suited to address your particular cosmetic concerns. Afterward, you will have a customized treatment plan created to achieve your unique goals. Many of our patients choose skin tightening treatments as a non-surgical alternative to more invasive procedures such as a facelift or neck lift. In addition, many of these procedures require little to no downtime. You can also combine these treatments with our fillers and injectables, medical skin care treatments, or advanced skin care products for a more comprehensive rejuvenation.
Ulthera®

The Ulthera® System provides a noninvasive method of lifting and tightening facial skin without the need for a surgical facelift. The procedure, referred to as Ultherapy™, is FDA-approved and employs micro-focused ultrasound energy to target areas including: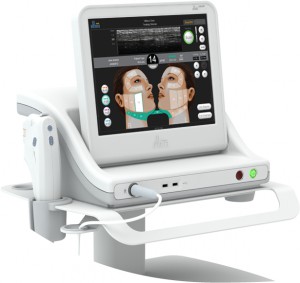 Above the brow line
Below the chin
The neck
Chest or décolletage
Dr. Mills was one of the first physicians in the country to offer Ultherapy™. The treatment can take as little as 30 minutes, without any of the downtime associated with surgery. Ultherapy™ stimulates the body's regenerative response, and you should notice a gradual improvement in the weeks following the procedure as your body rebuilds collagen.
The Ulthera® System was recently approved by the FDA for the treatment of décolletage wrinkles – the only medical device approved for such treatment. Combining Ultherapy™ with Cutera 532 for Poiklioderma can maximize the results of wrinkle reduction.
Aluma™
Aluma™ uses a unique energy delivery system to target tissues deep below the skin's surface and contract the body's natural supply of collagen. This contraction, caused by finely tuned radio-frequencies, can rejuvenate the look of the skin by improving both texture and elasticity. In addition, the body should begin to build new collagen after treatment, further enhancing results. The procedure is fast and there is little to no downtime. Dr. Mills recommends a series of six treatments performed every two weeks to achieve maximum results.
Cutera® ExcelV™
The ExcelV™ laser, designed by Cutera®, is a dynamic system that can treat a wide variety of conditions, including:
Port wine stains (pink or purple birthmarks)
Facial telangiectasia (dilated blood vessels)
Cherry angiomas (red papules)
Rosacea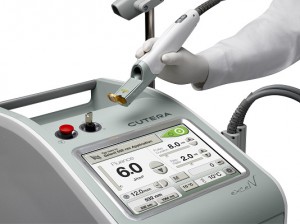 In addition, the ExcelV™ laser provides an effective method of sclerotherapy – the treatment of spider veins.
The system's 532 nm KTP laser and two 1064 nm Nd:YAG laser modes allow your provider to customize the settings of the ExcelV™ to treat your individual aesthetic skin concerns. Each procedure selectively targets and destroys the vessels that are causing each specific vascular condition using Selective Photothermolysis. Since this one system is able to target such a large range of blood vessels (small surface-level vessels as well as large deep tissue vessels), you can achieve clearer, smoother, younger-looking skin with a single laser treatment.
ActiveFX™

ActiveFX™ is an advanced fractional laser treatment that can dramatically reduce the appearance of fine lines and wrinkles while simultaneously giving you firmer and younger-looking skin. Many of the effects of the ActiveFX™ treatment – such as improved skin tone and texture – are often apparent very soon after the procedure. In the weeks following treatment, you should notice the quality of your skin continue to improve, as new collagen formation further tightens and tones the skin. The ActiveFX™ treatment is typically performed in a single one-hour office visit and does require a recovery period of about three to five days. Though initial results are often immediately noticeable, the final outcome of the procedure will be visible three to five months afterward. These results are typically long-term and can last for years.
Contact Us
To learn more about the skin tightening services available at Laguna Beach Rejuvenation and Wellness, or to schedule a complimentary skin care consultation, please contact our office today.