OC Plastic Surgeon Offers Non-Surgical Treatments at His Inclusive Medical Spa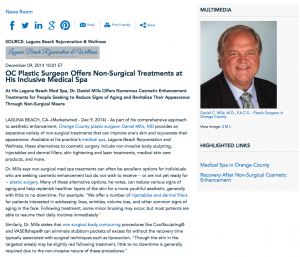 At his Laguna Beach med spa, Dr. Daniel Mills offers numerous cosmetic enhancement treatments for people seeking to reduce signs of aging and revitalize their appearance through non-surgical means.
Laguna Beach, CA — As part of his comprehensive approach to aesthetic enhancement, Orange County plastic surgeon Daniel Mills, MD provides an expansive variety of non-surgical treatments that can improve one's skin and rejuvenate their appearance. Available at his practice's medical spa, Laguna Beach Rejuvenation and Wellness, these alternatives to cosmetic surgery include non-invasive body sculpting, injectables and dermal fillers, skin tightening and laser treatments, medical skin care products, and more.
Dr. Mills says non-surgical med spa treatments can often be excellent options for individuals who are seeking cosmetic enhancement but do not wish to receive – or are not yet ready for – plastic surgery. Many of these alternative options, he notes, can reduce various signs of aging and help replenish healthier layers of the skin for a more youthful aesthetic, generally with little to no downtime. For example: "We offer a number of injectables and dermal fillers for patients interested in addressing lines, wrinkles, volume loss, and other common signs of aging in the face. Following treatment, some minor bruising may occur, but most patients are able to resume their daily routines immediately."
Similarly, Dr. Mills states that non-surgical body contouring procedures like CoolSculpting® and VASERshape® can eliminate stubborn pockets of excess fat without the recovery time typically associated with surgical techniques such as liposuction. "Though the skin in the targeted area(s) may be slightly red following treatment, little to no downtime is generally required due to the non-invasive nature of these procedures."
Although the minimally invasive nature and nominal recovery from non-surgical cosmetic enhancement can be alluring for many people, Dr. Mills notes that some patients may ultimately be better candidates for surgical procedures. By offering everything from skin care products to plastic surgery at his practice, he believes his patients can benefit from receiving the most effective treatment or procedure for their specific concerns, as well as their particular stage of life.
About Laguna Beach Rejuvenation and Wellness
Run by Dr. Mills, Laguna Beach Rejuvenation and Wellness is a state-of-the-art medical spa designed as an extension of the Aesthetic Plastic Surgical Institute. From BOTOX® Cosmetic and Ultherapy®, to chemical peels, laser resurfacing, and Dr. Mills' signature skin care line, the fully-equipped med spa offers an extensive array of non-surgical skin rejuvenation and cosmetic enhancement treatments. Additionally, a variety of wellness services – including vitamins, supplements, and a weight loss program – are also available for patients seeking to improve their health.
For more information about Laguna Beach Rejuvenation and Wellness, visit lagunabeachrejuvenation.com.
Contact:
Laguna Beach Rejuvenation and Wellness
31852 Pacific Coast Highway
Suite 401
Laguna Beach, CA 92651
(949) 954-5764
Rosemont Media
(858) 200-0044
www.rosemontmedia.com