What is Ulthera®?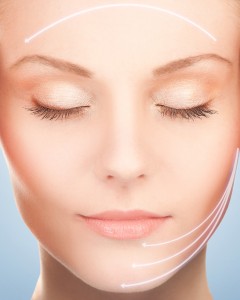 Approved by the Food and Drug Administration (FDA), Ulthera® is a non-surgical, non-invasive procedure designed to tone, tighten, and lift the skin for a rejuvenated appearance. By employing the power of ultrasound energy – which has been safely utilized in the medical industry for over 50 years – this innovative treatment helps to stimulate the natural production of collagen without the use of incisions and/or injections, therefore leaving the surface of your skin undamaged.
The Ulthera® procedure (known as Ultherapy®) can be used to target skin on the neck and décolletage as well as underneath the chin and above the brow. Unlike alternative techniques such as lasers, radiofrequency treatments, and surgery, Ultherapy® bypasses the outermost layer of skin to deliver a calculated amount of ultrasound energy at the appropriate depth and temperature. Prompting your skin's natural healing process, this energy essentially jumpstarts the production of new, fresh collagen, which gradually lifts and tightens skin in the treatment area over time.
Following Ultherapy®, your skin may appear slightly red, but this should fade shortly. There is typically no downtime, so most patients are able to return to their normal daily routines immediately! While some results may be apparent right after treatment, optimal outcomes will become evident over the course of about two to three months.
Ultimately, Ulthera® cannot duplicate the results of a surgical procedure like facelift, but it can often be an excellent option if you do not desire and/or are not yet ready for surgery.
Contact Our Medical Spa
For more information about Ulthera®, or if you would like to schedule a consultation at our med spa, please contact us today.